Casey Anthony trial: Should investigators have found Caylee four months sooner?
A meter reader says at the Casey Anthony trial he first told investigators of Caylee's remains four months before they were recovered. Was an opportunity lost to collect better evidence?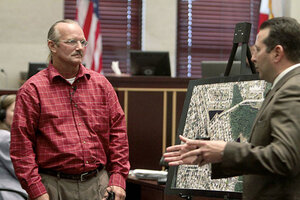 Red Huber/AP
The man who discovered the skeletal remains of two-year-old Caylee Anthony testified Tuesday in the murder trial of her mother that he tried three times in August 2008 to get the sheriff's department to investigate what appeared to be a child's skull in a wooded area not far from Caylee's home.
Roy Kronk, a county meter reader, said he called the Orange County Sheriff's Office on three consecutive days, but no one from law enforcement went into the swampy woods to investigate.
One deputy, after a cursory look around, even berated him for wasting the department's time with a frivolous report.
Four months later on Dec. 11, 2008, Mr. Kronk said he returned to the same place in the woods near a distinctive log.
He told the jury that he saw a plastic bag. "I held the bag up," Mr. Kronk said. "The contents of the bag shifted and that's when I discovered the skull. It was at my feet."
Kronk's testimony has been highly anticipated among those closely following the Casey Anthony murder trial. In most cases, Kronk would be hailed a hero for helping to bring closure to the grim vigil for the missing toddler. But defense attorneys are hoping to use the unusual circumstances surrounding the discovery of Caylee's remains as a way to suggest reasonable doubt to the jury.
In his fiery opening statement, defense attorney Jose Baez accused Kronk of moving and hiding Caylee's remains.
---