Texas Gov. Perry's public day of prayer draws fire from clergy and atheists
Gov. Rick Perry of Texas has called for a public day of prayer and fasting, prompting criticism from First Amendment watchdog groups, atheists, and the Houston Clergy Council.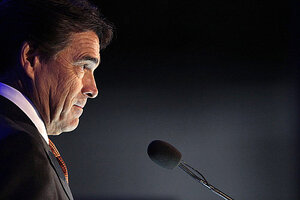 Gregory Bull / AP / File
The American debate over the mixing of politics and religion is swirling in Texas.
Gov. Rick Perry's call for Americans to gather in Houston's Reliant Stadium for a day of public prayer and fasting on Aug. 6 has drawn the ire of atheist groups and concerns from interfaith church leaders as well.
Titled "The Response," the event is intended to bring together people to address the nation's "state of crisis" through Christian prayer. The website (theresponseusa.com) features a one-minute video invitation from Governor Perry, in which he says in part, "I'm all too aware of government's limitations when it comes to fixing things that are spiritual in nature. That's where prayer comes in, and we need it more than ever."
But opponents say what's needed is a clearer line between government and religion.
The Freedom From Religion Foundation (FFRF), a Madison, Wisc., group concerned with the separation of church and state, filed a lawsuit July 13 in the Southern District Court of Texas, located in Houston. It seeks to restrain Perry from being involved in the prayer event and to declare his endorsement of it unconstitutional.
---