West Memphis Three: Internet campaign, Hollywood drove their release
The West Memphis Three, charged in the 1993 slayings of three Cub Scouts, were released Friday. Social media, the Internet, and Hollywood have helped raise critical questions about their convictions.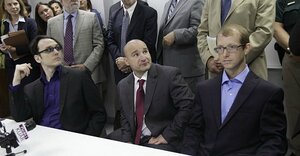 Danny Johnston/AP
The release Friday of the "West Memphis Three" – the men convicted in the 1993 killing of three young Cub Scouts in Arkansas – testifies to the power of the Internet and broadcast media in influencing the criminal justice system.
Questions about the prosecution of the case and conduct of the trial – raised by supporters of defendants Damien Echols, Jason Baldwin, and Jessie Misskelley Jr. – generated widespread interest through such websites as "Free the WM3 Support Fund" and its "Free the West Memphis Three Official Blog." Facebook, Twitter, and YouTube videos helped spread the word.
That would have been far less possible 18 years ago when this particularly heinous crime occurred. Not only have social media and websites aimed at affecting legal outcomes proliferated, but powerful search engines have created easy access to detailed case information and the assertions of advocacy groups.
Friday's outcome was not a clear victory for the West Memphis Three (so-called because of the place in Arkansas where the crime occurred) or for the families of the three 8-year old boys. As the prosecuting attorney, Scott Ellington, put it: "Some are happy, some are angry, and others are perplexed."
While maintaining their innocence, the three men agreed to a legal maneuver that lets them maintain their innocence while acknowledging that prosecutors have enough evidence against them. They were sentenced to time served, allowing their immediate release.
---