Did TSA airport screeners violate free speech rights of bare-chested student?
A US judge in Virginia allows a college student to sue two TSA screeners over his arrest after he stripped off his clothes to reveal a protest message written on his chest.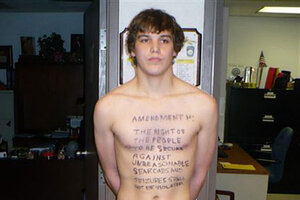 Richmond police/AP/File
A federal judge in Richmond ruled Tuesday that a lawsuit could move forward against two airport security screeners who had a college student arrested after he stripped to a pair of running shorts to protest what he felt were unconstitutionally intrusive search procedures.
The student, Aaron Tobey, had used a black marker to display a portion of the Fourth Amendment on his bare chest. It read: "The right of the people to be secure … against unreasonable searches and seizures shall not be violated."
US District Judge Henry Hudson dismissed much of the federal lawsuit filed against various officials involved in the Dec. 30, 2010 incident at Richmond International Airport. But the judge said the portion of the suit that accuses two Transportation Safety Administration officers of violating Mr. Tobey's free speech rights would be allowed to move forward.
The judge's ruling opens the way for further investigation by Tobey's lawyers into why security screeners called the police when Tobey removed most of his clothing.
The lawsuit claims that the security officials had Tobey arrested in response to his protest. Tobey's lawyers say he has a right to peacefully object to the government's treatment of airline passengers provided his actions are not disruptive.
---