Should Casey Anthony have to reimburse state for its failed case against her?
Casey Anthony should have to pay more than $500,000 in prosecution costs, the state tells the judge, asserting that the case was 'put in motion' by her lies. Her lawyers decry 'sour grapes.'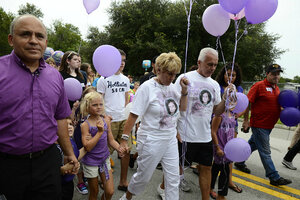 Phelan M. Ebenhack/AP
Casey Anthony's lawyer told a Florida judge on Friday that it was "sour grapes" for prosecutors to try to force his client to pay more than $500,000 in costs associated with her murder trial after the young mother was acquitted of involvement in the death of her two-year-old daughter.
Defense Lawyer Cheney Mason accused the State Attorney's Office of trying to punish Ms. Anthony by requiring her to pay the full cost of the murder investigation and prosecution – even though a jury in July declared her not guilty of murder.
"The state wants to charge her the entire cost of prosecution, not the legitimate expenses related to the convicted counts," Mr. Mason said during a hearing in Orlando. "That has nothing to do with justice," he said. "It has everything to do with [public] outrage and sour grapes."
Mason urged Chief Judge Belvin Perry to limit any financial assessment against his client to expenses directly related to the only counts for which she was convicted – four misdemeanor charges of lying to a law enforcement officer.
Assistant State Attorney Linda Burdick told the judge that Anthony should pay all investigative and prosecution costs in the murder case because it was her actions that forced the state to investigate and prosecute.
---