Appeals court's unusual ruling: Give Jose Padilla a tougher sentence
Convicted Al Qaeda supporter Jose Padilla, a US citizen once labeled an 'enemy combatant,' was given a 17-year sentence. In a rare ruling, a US appeals court called that too lenient.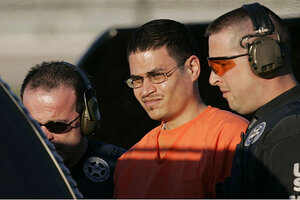 J. Pat Carter/AP/File
A US appeals court, agreeing with federal prosecutors, ruled Monday that convicted Al Qaeda supporter Jose Padilla's 17-year prison sentence was too lenient.
In a 2-to-1 ruling, the Atlanta-based Eleventh US Circuit Court of Appeals overturned Mr. Padilla's sentence and ordered a Miami trial judge to recalculate his punishment.
"Padilla's sentence is substantively unreasonable," wrote Chief Judge Joel Dubina in a 73-page opinion. It is rare for an appeals court to call for a substantially higher sentence.
At the time of his sentencing, federal prosecutors were seeking life in prison. They appealed the 17-year sentence.
Since his sentencing in Jan. 2008, Padilla, an American citizen who faced harsh interrogation techniques during years in military detention, has been held at the federal supermax prison in Florence, Colo., considered the most secure prison in the country.
Chief Judge Dubina and Judge William Pryor said the sentencing judge – US District Judge Marcia Cooke – had not given enough weight to Padilla's prior criminal history and had wrongly concluded that Padilla would not likely be a danger to the public after serving his prison term.
---