BP parries with Halliburton over recovery costs for Gulf oil spill
British oil giant BP wants a US judge to force Halliburton to pay all recovery costs stemming from 2010 Gulf oil spill. In a filing Monday, it aims to rebuff assertion that Halliburton bears no liability.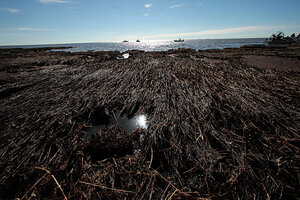 Gerald Herbert/AP/File
British oil giant BP is asking a federal judge to force Halliburton to pay for all recovery costs resulting from the catastrophic 2010 oil spill in the Gulf of Mexico.
In a filing made public Monday in federal court in New Orleans, BP accuses Halliburton, a contractor working on the well, of "gross negligence" in decisions involving the cement job meant to seal the Macondo well, the source of the explosion that resulted in 11 deaths and the release of 4.9 million barrels (206 million gallons) of oil into Gulf waters.
According to the court filing, BP wants Halliburton to pay for "the amount of costs and expenses incurred by BP to clean up and remediate the oil spill, the lost profits from and/or diminution in value of the Macondo prospect, and all other costs and damages incurred by BP related to the Deepwater Horizon incident and resulting oil spill."
Halliburton, for its part, "stands firm that we are indemnified by BP against losses" resulting from the disaster, spokeswoman Beverly Stafford told CNN in an e-mail Tuesday.
The four-page filing is BP's answer to a lawsuit Halliburton filed in April against it and other companies involved with the Macondo well site. BP had hired Halliburton to cement the well, a technique used in deepwater drilling to stabilize hydrocarbons near the well's bottom to prevent a blowout. (BP has also filed its own suit against Halliburton and Transocean, the operator of the Deepwater Horizon oil rig.)
---