Halliburton 'destroyed' evidence after Gulf oil spill, BP charges
BP alleges that Halliburton, a subcontractor working on the Deepwater Horizon rig, destroyed evidence pertaining to what might have caused the explosion that triggered the Gulf oil spill.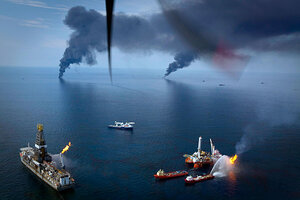 Lee Celano/Reuters/File
The allegation by oil giant BP that Halliburton, a subcontractor on the doomed Deepwater Horizon drilling rig, destroyed data about a cement slurry operation is a glimpse into a nasty corporate court battle set to go to trial in federal court in New Orleans in February.
BP has assumed responsibility for the explosion, which killed 11 workers and eventually spewed more than 200 million gallons of oil into the Gulf of Mexico. But it is fighting Halliburton and rig owner Transocean in court over liability for damages. Next year's trial is BP's attempt to get a federal court to impose sanctions against Halliburton, which has refused to admit liability for the explosion and spill. So far, BP has shelled out $40 billion to cap the damaged well and clean up the Gulf and soiled coastline.
In asking the court to sanction Halliburton over the missing data, BP has played its most powerful card yet. The legal tussle has been a contentious one all along, prompting President Obama to describe it last year as "executives of BP and Transocean and Halliburton falling over each other to point the finger of blame at somebody else."
In court papers filed Monday, BP alleges that Halliburton, an oil field services corporation once run by former Vice President Dick Cheney, destroyed data from tests on a cement slurry that the firm uses in drilling operations. Several investigations have identified a similar slurry as a root cause of the Deepwater Horizon accident. BP also wants the court to order a third-party inspection of a key Halliburton computer to determine if any of the test data can be recovered.
---