Judge allows Jerry Sandusky visits with grandkids, with supervision (+video)
Child protection advocates express concern after a Pennsylvania judges allows former Penn State coach Jerry Sandusky to see and correspond with his grandchildren, albeit in the presence of a parent.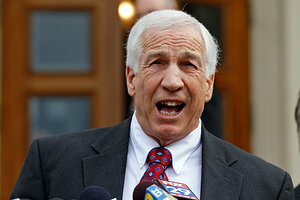 Alex Brandon/AP
A Pennsylvania judge's ruling Monday that Jerry Sandusky, the former Penn State football coach who is awaiting trial on sex abuse charges, may have contact with his grandchildren is alarming child protection advocates who suggest the state's judicial system lacks training on how predators operate.
In a hearing on Friday, prosecutors had sought to restrain Mr. Sandusky's movement while on bond to the confines of his home, with no contact with his 11 grandchildren, ages 2 to 14, either in person or via phone. Sandusky's neighbors have complained that his presence on his backyard deck is disruptive, especially since his property borders an elementary school and playground.
Sandusky was arrested in November and charged with 52 criminal counts relating to the sexual abuse of 10 boys. He has pleaded not guilty. His trial is expected to begin May 14.
Judge John Cleland ruled to allow Sandusky access to his backyard and added that he may also leave his home to meet his defense team, provided he give the county an advance warning of 36 hours and an agenda of his movement. Besides family members, he may also receive up to 12 adult visitors in his home in individual sessions, each capped at two hours, three times a week.
However Judge Cleland's ruling involving the grandchildren is most troubling to those who say child abuse predators often start abusing children who are closest to them. None of Sandusky's alleged victims are related by blood, but the grand jury report that outlined a 15-year history of alleged abuse said Sandusky used sleepovers in his home to target and abuse children.
---