Report: NYPD compiled huge, secret dossier on law-abiding Muslims
A report released Friday suggests that, despite claims to the contrary, the NYPD singled out Muslims for surveillance and sometimes even crossed state lines. Critics want a federal probe.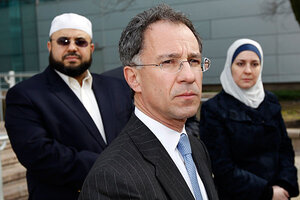 Alex Brandon/AP
A new report has brought the New York Police Department under increasing scrutiny for a terrorism-surveillance program that critics say illegally profiles Muslims and has even extended its operations into other states.
The secret report, obtained by the Associated Press and released Friday, adds to longstanding concerns about the NYPD's Demographics Unit. It shows that the unit collected huge amounts of information on the region's Muslim-American community – ranging from conversations in Muslim-owned shops to the license-plate numbers of those attending mosque – even if there was no link to criminal activity.
Mayor Michael Bloomberg and NYPD Commissioner Ray Kelly have attributed the absence of terror attacks since 2001 to the program's success. The commissioner has also argued that the intelligence gathering is no different than what the NYPD would do for other groups.
But the scope of the intelligence gathering chronicled in the report is leading to renewed calls for a federal investigation.
"It is no longer a question that the NYPD is engaged in widespread racial profiling," says Ibrahim Hooper, spokesman for the Council on American-Islamic Relations. "NYPD documents state that they are spying on Muslims solely because they are Muslims."
An AP review of the report states that plainclothes police officers assigned to investigate the city's Syrian community "photographed businesses and eavesdropped at lunch counters and inside grocery stores and pastry shops," even though many of the targets were second- and third-generation US citizens and there was no threat being investigated.
---