Two formidable lawyers to spar at Supreme Court over health care reform law
Two attorneys will handle the lion's share of the arguments before the Supreme Court in the Obama health care reform case. In one corner, US Solicitor General Donald Verrilli. In the other, the indomitable Paul Clement.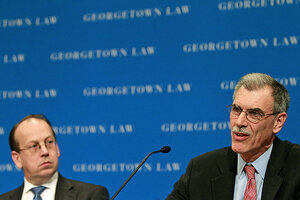 AP Photo/Haraz N. Ghanbari
Six lawyers are set to deliver arguments at the Supreme Court on the Patient Protection and Affordable Care Act (ACA). Two will handle the lion's share:
Donald Verrilli
As US solicitor general, Donald Verrilli is representing the Obama administration and will argue that the court should affirm the constitutionality of the ACA.
He served as deputy counsel to President Obama prior to being nominated to fill the solicitor general's post left vacant when Elena Kagan was confirmed as a Supreme Court justice.
Prior to his work in the Obama administration, Mr. Verrilli was a partner at the law firm Jenner & Block, and was co-chairman of the firm's Supreme Court practice. He has argued 16 cases at the high court.
A Connecticut native, Verrilli attended Columbia Law School, where he served as editor in chief of the Columbia Law Review. He clerked for Judge J. Skelly Wright of the US Court of Appeals for the D.C. Circuit and for Justice William Brennan at the US Supreme Court.
---