Supreme Court justices appear poised to sweep aside entire health-care law
Conservative Supreme Court justices argued Wednesday morning that without the individual mandate, the entire 2,700-page health-care law must be invalidated in full.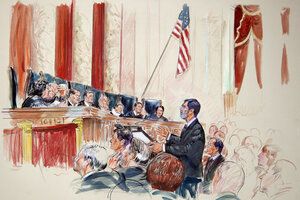 Dana Verkouteran/AP
With the centerpiece of President Obama's health-care reform law in constitutional peril, the US Supreme Court on Wednesday turned its attention to the thorny question of what happens to the rest of the law if the so-called individual mandate is struck down.
At oral argument Tuesday, the conservative wing of the court, including swing Justice Anthony Kennedy, had peppered Solicitor General Donald Verrilli with a barrage of critical and skeptical questions.
The session led many analysts to conclude that the heart of the Patient Protection and Affordable Care Act, the individual mandate, may be declared unconstitutional by five justices of the nine-member court.
That same split was on full display in two sessions Wednesday, with the conservative justices arguing in the morning that the entire 2,700-page statute must be invalidated in full, while the court's liberal wing favored striking down only those sections of the law closely tied to the individual mandate. In the afternoon the conservatives attacked the constitutionality of a plan to expand Medicaid as part of the reform law.
The conservative majority's consistent challenges to the health-care law in three days of hearings suggest more than the law's individual mandate may be in jeopardy. The court now appears poised to strike down the law in its entirety.
---