Would overturning health-care reform be 'judicial activism'?
For the Supreme Court to strike down health-care law, including its key individual mandate, smacks of the judicial activism typically denounced by conservatives, President Obama says.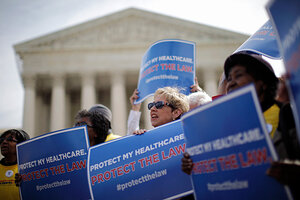 Charles Dharapak/AP
President Obama weighed in on the constitutionality of his health-care reform law on Monday, saying he was confident the measure would be affirmed by the US Supreme Court.
He also warned the court's conservative justices that striking down the law would constitute the kind of judicial activism often denounced by conservative commentators.
"I'm confident that this will be upheld because it should be upheld," Mr. Obama said during a press conference at the White House with the president of Mexico and the Canadian prime minister.
"That's not just my opinion; that's the opinion of a whole lot of constitutional law professors and academics and judges and lawyers who've examined this law," the president said.
Last week the Supreme Court heard six hours of argument examining several aspects of the law, including its central feature – a government mandate that every American purchase an approved level of health insurance or pay a penalty.
Legal analysts at the hearings said the centerpiece of the law, the so-called individual mandate, and perhaps the entire law, appeared to be in peril from five justices on the court's conservative wing.
Obama suggested it would be "judicial activism" for a majority of the high court's nine justices to decide that the Patient Protection and Affordable Care Act exceeded Congress's authority to enact it. The law is the most important domestic legislative achievement of Obama's tenure as president. The law's demise on constitutional grounds would be an embarrassment in an election year.
---