'Torture memos' author can't be sued for harsh interrogations, court rules
José Padilla, who claims he was tortured while being detained on allegations of terror-related activity, was suing John Yoo, the Bush aide whose memos set out broadly permissive standards for inflicting physical and mental harm during interrogations.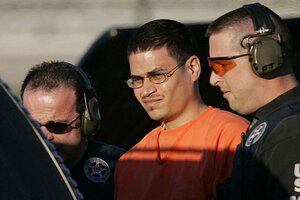 J. Pat Carter/AP/File
A federal appeals court ruled on Wednesday that the author of the so-called "torture memos" during the Bush administration could not be sued by an American citizen who claims he was tortured while being held without charge in military detention for three years and eight months.
José Padilla and his mother, Estela Lebron, had filed suit against former Deputy Assistant Attorney General John Yoo for allegedly creating a legal justification for Mr. Padilla's open-ended detention and the coercive interrogation methods used to try to break him psychologically.
Padilla was accused of plotting with Al Qaeda to conduct a "dirty bomb" attack on a US city. The allegation, which has never been substantiated, was used to justify his treatment.
Padilla was initially detained in the criminal justice system, but after a court ruled in his favor, he was designated an enemy combatant by President Bush and held incommunicado at the Navy brig near Charleston, S.C.
The US government believed he had information about Al Qaeda that might help prevent future terror attacks on the US. He was subjected to extreme isolation, including sensory confusion techniques, sleep deprivation, and stress positions. Mental-health professionals who examined him after his release from the brig said he had suffered severe and perhaps permanent psychological damage from his treatment as an enemy combatant.
---