Report: Trayvon Martin beat, bloodied George Zimmerman. Game-changer?
A medical report showing that Trayvon Martin hit George Zimmerman hard enough to draw blood on his face and head has made a second-degree murder conviction a long shot, say experts.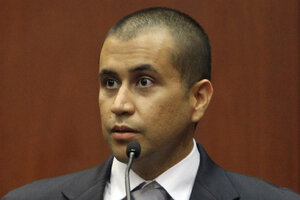 Gary W. Green/Orlando Sentinel/AP/File
Supporters of George Zimmerman, the volunteer watchman charged with murder for shooting Trayvon Martin, say new evidence that shows Mr. Zimmerman was beaten and bloodied about the head and that Mr. Martin's knuckles were mangled should bolster Zimmerman's claim that he shot the unarmed black teen in self-defense.
As pieces of evidence in the case begin to trickle out, the second-guessing of the prosecutor's decision to level second-degree murder charges in the case has begun in earnest, with many seeing Zimmerman's injuries as a reason to throw the case out altogether.
The evidence, they say, raises questions about whether the decision to charge him at all had more to do with politics rather than facts. A medical report obtained by ABC News states that Zimmerman had a fractured nose, two black eyes, two lacerations on the back of his head, and needed psychological counseling after the fight.
Zimmerman escaped prosecution for six weeks until Gov. Rick Scott – amid a national uproar and the arrival of civil rights leaders – appointed a special prosecutor, Angela Corey, who charged Zimmerman on April 20.
Zimmerman has maintained from the beginning that he feared for his life before shooting Martin. Ms. Corey has said public pressure, including that from civil rights organizations, did not play a role in her decision to charge Zimmerman on April 20, more than six weeks after the shooting.
Evidence that Martin hit Zimmerman hard enough to draw blood from different places on his face and head and skin his own knuckles, according to some legal experts, has made second-degree murder conviction a long shot.
---