FBI report: No evidence George Zimmerman is racist
An FBI investigation into the shooting of black teenager Travyon Martin concluded that there's no evidence the suspect, George Zimmerman, was motived by racial bias or hatred.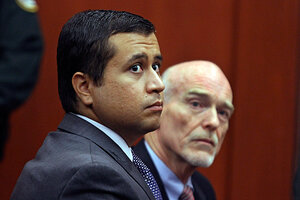 Joe Burbank/Orlando Sentinel/AP
After interviewing 30 people familiar with George Zimmerman, the neighborhood watch captain charged with killing African-American teenager Trayvon Martin, FBI agents found no evidence that the shooting was driven by racial bias or animus.
Before Thursday's release of a Department of Justice report, both sides have argued over whether smatterings of racially charged testimony should be released to the public before the trial – in particular, the testimony of "Witness 9," whom state prosecutors say has described an "act" by Mr. Zimmerman that suggests "he had a bias toward black people."
The report released Thursday made clear that the FBI found no one willing to go on the record as saying Zimmerman is racist. Even one of the most skeptical local investigators with the Sanford, Fla., police department, Chris Serino, suggested to the FBI that Zimmerman followed Trayvon "based on his attire," not "skin color," and added that he thought Zimmerman had a "little hero complex," but is not racist, according to the Orlando Sentinel, which obtained copies of the document.
---