Illegal immigration: agents sue to block Obama's 'DREAM Act'
Ten immigration agents say President Obama's bid to block deportation of some young illegal immigrants in a 'DREAM Act lite' is unconstitutional, and they are challenging it in court.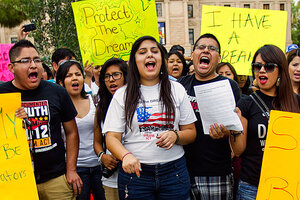 Tom Tingle/The Arizona Republic/AP
Ten federal immigration officials filed suit on Thursday asking a US district judge in Dallas to block the Homeland Security Department from implementing President Obama's decision to give special immigration status to some 1.7 million children of illegal immigrants.
The suit charges that Homeland Security Secretary Janet Napolitano and a key immigration official are engaging in an illegal and unconstitutional usurpation of government power by implementing an administrative version of the DREAM Act without congressional authorization.
It says the agency action is forcing immigration agents in the field to either enforce federal law as passed by Congress or abide by the administration's new immigration policies and priorities.
"We are federal law enforcement officers who are being ordered to break the law," said one of the plaintiffs, Chris Crane, a deportation officer in Utah, and president of the immigration agents' union.
Ms. Napolitano issued an agency directive on June 15 instructing immigration officials to use their "prosecutorial discretion" to confer special immigration status to the children of illegal immigrants. The program took full effect on August 15 and drew thousands of initial applicants.
---