FAMU blames hazing victim for his own death: Heartless or prudent?
Florida A&M University's assertion that drum major Robert Champion is to blame for his own death after a hazing ritual last year will be a test of schools' legal responsibility to control hazing.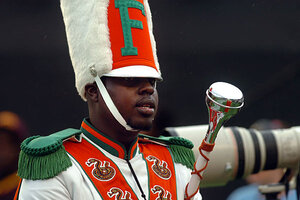 Joseph Brown III/The Tampa Tribune/AP/File
Florida A&M University said Tuesday that senior drum major Robert Champion's decision to take part in a violent hazing ritual, even after signing a university pledge that he would not participate in hazing, absolves the university and Florida taxpayers from liability for his death.
FAMU's assertion goes to the core of a still-evolving area of liability law: Are institutions proxy parents for their students, or do they have no duty to act as custodians? The civil lawsuit brought by Mr. Champion's parents against FAMU argues that adult students are not at fault for their own deaths if they take part in hazing, and a Florida state law seems to back that viewpoint, legal experts say. But FAMU's rejection of the claim sets up a potential test case for the law.
"In many states, you can't recover [in civil court] if you are the cause of your own harm, but states that have enacted hazing legislation [including Florida] recognize that this act involves a unique type of coercion which removes that defense," says Doug Fierberg, a hazing law attorney at Bode & Grenier in Washington, D.C. "In other words, you can argue that by joining the band, Champion understood that there might be some hazing, but that's not a defense" for the university.
"If the Champion case causes this to change, it will only put more young people at risk of tremendous injury and death," says Mr. Fierberg.
---