Jimmy Hoffa: no visible sign of remains, but forensics lab to weigh in
Jimmy Hoffa may be buried under a work shed in Roseville, Mich., a tipster said. The investigation hasn't found any remains yet, but the search for Jimmy Hoffa continues.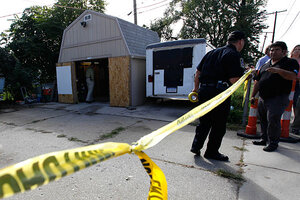 Paul Sancya/AP
The latest attempt to end the 37-year mystery involving the disappearance of former Teamsters boss Jimmy Hoffa started Friday at a suburban work shed outside Detroit.
Following a tip suggesting that a body might have been buried there decades ago, local investigators drilled 10 feet below the surface Friday morning to retrieve core soil samples. There were no visible signs of remains, but the soil samples will be analyzed by a forensics lab at Michigan State University in East Lansing. If test results show human remains, excavation would start next week.
Not that local police actually expect to find Mr. Hoffa's remains beneath the concrete-floored shed in Roseville, Mich. "We aren't saying it's not Jimmy Hoffa. We're just saying the odds are very remote," James Berlin, police chief of Roseville told the Detroit News.
Hoffa disappeared on July 30, 1975, and was last seen outside a restaurant in suburban Oakland, Mich. A key figure during the heyday of the labor movement, Hoffa was convicted in of jury tampering and fraud before being pardoned by President Nixon. The many unknowns surrounding his disappearance have added to his legend, with the National Museum of Organized Crime & Law Enforcement in Las Vegas featuring a section on Hoffa conspiracy theories, for instance.
---