Supreme Court: In affirmative action arguments, conservative bloc seems united
The Supreme Court heard oral arguments Wednesday on an affirmative-action plan at the University of Texas, and Justice Anthony Kennedy, the likely swing vote, appeared skeptical.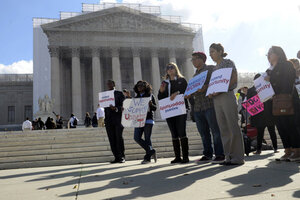 Susan Walsh/AP
The justices of the US Supreme Court split sharply on Wednesday over whether to approve the use of racial preferences for admission to the University of Texas at Austin.
As in prior cases dealing with the divisive issue of race and college admissions, liberal members of the high court defended the Texas affirmative-action plan while conservatives were skeptical and sometimes hostile to it.
After an hour and 20 minutes of oral argument, it was not clear precisely how the justices might resolve the case. But it appeared there were five votes on the conservative side of the court to fashion a majority opinion.
At several points during the argument, Justice Anthony Kennedy, considered the most likely swing vote in the case, expressed concern or otherwise questioned arguments supporting the Texas plan.
When Solicitor General Donald Verrilli insisted that the Texas plan might not necessarily involve a racial preference under the school's holistic selection process, four justices – including Justice Kennedy – pushed back.
"I don't understand this argument," he said. "I thought the whole point is that sometimes race has to be a tiebreaker and you are saying that it isn't."
Kennedy added: "Well… then we should just say you can't use race, don't worry about it."
The case could become a major legal precedent should the justices impose significant new limits on the use of race in college admissions. Such a ruling would force admissions officers and affirmative-action officials across the country to develop race-neutral methods to fill their class rosters.
The last major test of the issue was in 2003 when the court upheld by a 5-to-4 vote the use of race in admissions to the University of Michigan Law School.
---