9/11 trial: Did US have improper influence? Lawyer asks judge for help.
A defense lawyer in the 9/11 war crimes trial tells a judge that a top prosecutor, asked if there had been improper influence by Defense Department or administration officials, refused to answer at least 25 times.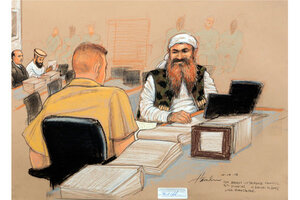 Janet Hamlin/AP/Pool
A defense lawyer in the 9/11 war crimes tribunal at Guantánamo told a military judge on Friday that the former chief prosecutor for military commissions refused at least 25 times to answer his questions about whether there had been any improper influence from senior Defense Department or Obama administration officials in bringing war crimes charges against Khalid Sheikh Mohammed and four others.
The lawyer, US Navy Cmdr. Walter Ruiz, said he interviewed Navy Capt. John Murphy while trying to investigate the possibility that senior government officials attempted to exert pressure in the case.
Captain Murphy invoked a special privilege against answering questions dealing with internal government deliberations, Commander Ruiz said. He invoked it 25 to 30 times, Ruiz said.
"One of the things I asked was who else was in the room," he said.
Ruiz said he asked Murphy if he had contact with the general counsel of the Defense Department. "They raised the privilege on those issues" as well, Ruiz added.
The comments came on the last of five days of pretrial hearings designed to iron out pending legal issues in advance of the expected war crimes tribunal at Guantánamo. No trial date has been set.
---