Bullets vs. rocks? Border Patrol under fire for use of deadly force.
An Oct. 10 incident, in which a Border Patrol agent fired his gun in response to rock-throwing, leaving a 16-year-old dead, is drawing attention to the Border Patrol's use-of-force policy.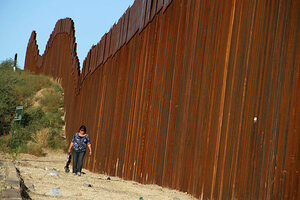 Alonso Castillo/REUTERS/File
It's a scene all too familiar on this Arizona stretch of the Southwest border: One or more people, under the cover of darkness, clamber over the tall metal fence that is the international boundary in a mad rush to smuggle marijuana bundles into the United States without detection.
On Oct. 10, authorities say, a similar incident resulted in the death of 16-year-old José Antonio Elena Rodriguez, shot multiple times after a Border Patrol agent responded with gunfire to a rock attack.
Under Border Patrol policy, bullets can be a justified response to rocks, because rocks have caused serious injuries to agents in the past. But both American civil liberties groups and Mexican authorities are drawing attention to the incident, saying it raises worrying questions not only about the Border Patrol's use of force, but also its recent surge of manpower along the border.
The teen became at least the 16th person to die along the 2,000-mile border at the hands of the Border Patrol since January 2010 – and the eighth in which agents have cited rock-throwing as a reason for using deadly force, according to border watch groups.
The FBI is investigating, as are Mexican officials. At the behest of concerned members of Congress, the Office of Inspector General is already reviewing border agencies' use-of-force guidelines in connection with a different incident.
A primary concern is whether a hiring boom in recent years has hurt training.
"This massive increase of agents with very little proportional accountability and oversight, I think has led to some problems," says Vicki Gaubeca, director of the American Civil Liberties Union's Regional Center for Border Rights in Las Cruces, N.M.
---