Unanimous juries for criminal convictions? Supreme Court declines case.
The Supreme Court declines to take up a case challenging the right of states to permit non-unanimous verdicts. Critics say verdicts reached by divided juries violate the Sixth Amendment.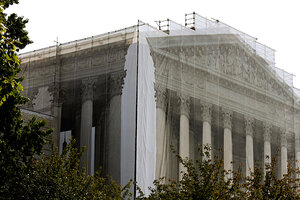 Alex Brandon/AP/File
The US Supreme Court declined on Tuesday to take up a case examining whether the Sixth Amendment right to a jury trial requires that juries in criminal cases reach their verdicts unanimously.
Two states, Louisiana and Oregon, permit convictions on less-than-unanimous jury verdicts. In both states a defendant can be convicted by an 11-to-1 or 10-to-2 vote.
All other states and the federal government require that jurors reach a verdict unanimously.
Lawyers urging the high court to take up their case alleged that the jury process in Louisiana is a vestige of a Jim Crow-era policy that sought to undermine African-American participation in the criminal-justice system.
The petitioning lawyers also charged that the system undercuts the reliability of jury verdicts. They note that Louisiana's Jefferson Parish, where their case was tried, has the fourth highest rate of wrongful convictions in the country. Neighboring Orleans Parish has the highest rate.
The root cause of these failures is Louisiana's embrace of non-unanimous verdicts – "a practice that stultifies the time-honored method of ensuring careful review of the prosecution's case in the jury room," Stanford law professor Jeffrey Fisher wrote in his brief urging the court to confront the issue.
Officials in Louisiana deny that their non-unanimous jury system perpetuates racist policies or shoddy justice.
---