Obama administration to argue for gay marriage in Supreme Court case
The US Supreme Court next month hears arguments in a case challenging the 'Defense of Marriage Act.' In a brief filed Friday, the Obama administration asserts that DOMA discriminates against gay and lesbian couples in violation of the US Constitution.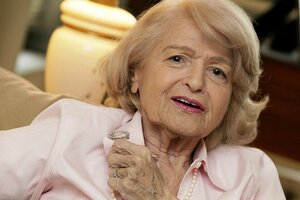 Richard Drew/AP
The Obama administration has taken another important step in its advocacy of same-sex marriage, weighing in on an important case to be heard in the US Supreme Court next month.
The essence of the administration's argument is that the 1996 "Defense of Marriage Act" violates the US Constitution in defining marriage as the legal union between one man and one woman – specifically Section 3 of DOMA, which bars recognition of same-sex marriages in the granting of federal benefits including Social Security survivors' benefits, immigration, insurance benefits for government employees, and filing joint tax returns.
In the Justice Department brief filed with the Supreme Court Friday, Solicitor General Donald Verrilli writes that DOMA's Section 3 "targets the many gay and lesbian people legally married under state law for a harsh form of discrimination that bears no relation to their ability to contribute to society."
How much do you know about the US Constitution? A quiz.
"It is abundantly clear that this discrimination does not substantially advance an interest in protecting marriage, or any other important interest," Mr. Verrilli writes. "The statute simply cannot be reconciled with the Fifth Amendment's guarantee of equal protection. The Constitution therefore requires that Section 3 be invalidated."
---