US Supreme Court to take up Michigan affirmative action case
At issue in the Michigan affirmative action case is whether a ballot initiative violated the rights of minority students to try to influence school officials to adopt race-conscious admissions plans.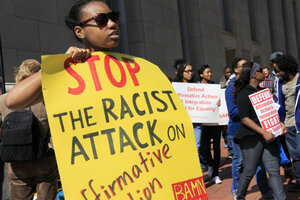 Al Behrman/AP/File
The US Supreme Court on Monday agreed to examine whether a 2006 ballot initiative banning affirmative action at public universities in Michigan violates the equal protection rights of minorities.
Fifty-eight percent of Michigan voters approved Proposal 2, which amended the state constitution to prohibit discrimination or preferential treatment in college admissions based on race, sex, ethnicity, or national origin.
Civil rights groups and minority students sued to block the measure, arguing that the constitutional amendment erected disadvantageous barriers to those advocating for the use of racial identity and ethnic background to grant preferential consideration to minority candidates by college admissions officers.
By targeting racial classifications in college admissions, proponents of the ban on racial classifications were themselves guilty of using such classifications, they argued.
A federal judge disagreed and upheld Proposal 2. A sharply divided Sixth US Circuit Court of Appeals reversed, ruling 8 to 7 that the ban on affirmative action violated the Equal Protection Clause of the 14th Amendment.
The central issue in the case is what the Constitution's guarantee of equal protection actually protects.
It is well established that it protects against political obstructions that would hinder or undermine equal treatment of black students and white students.
But the question in the Michigan case is whether it also protects against political obstructions that make it more difficult for minority students to obtain preferential treatment in college admissions based on race or ethnicity.
---