'Morning after' pill: why a judge ordered that even preteens can access it
The judge gave the government 30 days to make the morning-after pill available over the counter, without age restrictions. The order is likely to spark a new round of debate over the drug.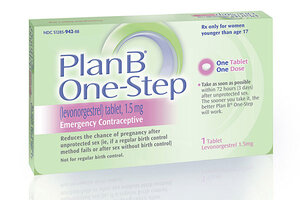 Teva Women's Health/AP
A federal judge has ordered the Obama administration to allow over-the-counter sales of emergency contraceptive pills without any age restrictions, a move likely to spark a new round of debate over the drug.
Senior US District Judge Edward Korman issued the order late Thursday in a 59-page opinion in which he blasted officials of both the Bush and Obama administrations for allowing political considerations to undercut scientific evidence that would have long ago made the drug, known as Plan B or the morning-after pill, available to American women, teens, and girls as young as 11.
"This case is not about the potential misuse of Plan B by 11-year-olds. These emergency contraceptives would be among the safest drugs sold over-the-counter, [and] the number of 11-year-olds using these drugs is likely to be [minuscule]," Judge Korman said.
"The invocation of the adverse effect of Plan B on 11-year-olds is an excuse to deprive the overwhelming majority of women of their right to obtain contraceptives without unjustified and burdensome restrictions," the judge said.
Reproductive-rights groups immediately hailed the decision as long overdue.
"Judge Korman's ruling is an affirmation that policy can and should be driven by facts and by public health," Ilyse Hogue, president of NARAL Pro-Choice America, said in a statement. "For years, women have had to jump through hoops because officials in Washington played politics with our health."
"This ruling is good policy, good science, and good sense," added Cecile Richards, president of Planned Parenthood Federation of America.
Conservative groups were critical of the opinion and urged an appeal.
---