'No more hurting people.' Will a safer future follow Boston tragedy's wake?
Martin Richard, the 8-year-old boy killed in the Boston Marathon bomb attack, once held a sign that said 'peace' and 'no more hurting people.' Research finds a pattern of lessening violence as human history moves forward.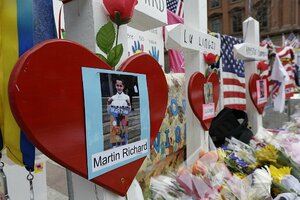 Matt Rourke/AP
Of all the images from the Boston Marathon tragedy that became suddenly iconic this week, none was more poignant than this: a photo showing how Martin Richard, the 8-year-old boy who died in the bomb attack, once held a sign that said "peace" and "no more hurting people."
As a city and nation struggle to move forward, that sign implies one of the big questions that remains: What can be done to prevent such acts of senseless destruction in the future?
The search for answers will take time.
In the case of the explosions that rocked the Boston Marathon finish line on April 15, the suspects identified Thursday by the FBI have now been captured. Tamerlan Tsarnaev died in a gun battle with police, while his younger brother, Dzhokhar Tsarnaev, is at a Boston hospital under tight security.
But their motive was still a matter of investigation Saturday.
Whatever is eventually determined – whether the attacks stemmed from affiliation with some terrorist ideology or by something else – officials in cities around the nation are now thinking harder about how to protect against such potential attacks, notably on "soft targets" like an outdoor road race that are difficult to secure.
One answer, already, is stepped-up security measures by law enforcement.
From public events in America this weekend to the running of the London Marathon this Sunday, the presence of law enforcement is greater than it would have been had the Boston attack not occurred. But, although Boston in recent days has seen a dramatic "surge" of police and National Guard troops, limited government budgets and the huge number of soft targets mean that such efforts are an imperfect defense.
---