Obama renews push to close Guantánamo military prison
When he took office, President Obama pledged to close the military prison at Guantánamo Bay, Cuba. But Congress and much of the public are against such a proposal for the remaining 166 detainees.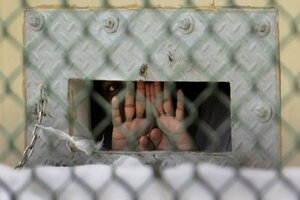 Brennan Linsley/AP
President Obama is renewing his stalled effort to close the military detention center at Guantánamo Bay, Cuba. It was a promise he made when he first ran for president, but one he couldn't keep when Congress began blocking funds for releasing or transferring hundreds of prisoners captured as part of the war on terror.
In a speech at the National Defense University in Washington Thursday, Mr. Obama said "Gitmo," as it's known, "has become a symbol around the world for an America that flouts the rule of law."
In addition to asking Congress to lift the restrictions on detainee transfers, the president listed several other steps he intends to take.
"I have asked the Department of Defense to designate a site in the United States where we can hold military commissions," he said. "I am appointing a new, senior envoy at the State Department and Defense Department whose sole responsibility will be to achieve the transfer of detainees to third countries.
"I am lifting the moratorium on detainee transfers to Yemen, so we can review them on a case-by-case basis," Obama continued. "To the greatest extent possible, we will transfer detainees who have been cleared to go to other countries. Where appropriate, we will bring terrorists to justice in our courts and military justice system. And we will insist that judicial review be available for every detainee."
To buttress his argument for closing Gitmo, Obama noted that former President Bush had transferred some 530 detainees with Congress's support and also pointed out that Sen. John McCain (R) had agreed with Obama's position when the two ran against each other in 2008.
There were about 245 prisoners at Guantánamo when Obama took office in 2009, and that has dropped to 166. But releases have slowed to a trickle under the congressional restrictions, including a ban on any of them being brought to the US. No prisoners have left Guantánamo this year.

Among the 166 current inmates, nine have been charged with crimes or convicted, 24 are considered eligible for possible prosecution, 47 are considered too dangerous for release but are not facing prosecution, and 86 – more than half – have been cleared for transfer or release, Reuters reports.
---