Money-laundering scheme hid $6 billion for fraudsters like 'Joe Bogus'
US investigators shut down a vast cyber money-laundering scheme used by clients who sought complete anonymity, calling themselves things like 'Russia Hackers' and saying their address was '123 Fake Main Street.'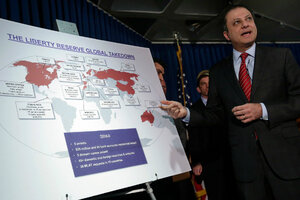 Richard Drew/AP
Criminal investigators slammed the digital door on a massive $6 billion cyber money-laundering scheme with 1 million users worldwide, including more than 200,000 users in the US, according to court documents.
Operating out of Costa Rica, the creators of Liberty Reserve billed their online company as an "instant, real-time currency for international commerce," which could be used to "send and receive payments from anyone, anywhere on the globe," the documents said. But investigators from the US Secret Service, Internal Revenue Service, Immigrations and Customs Enforcement saw only a scam.
From the start, Liberty Reserve's creators are alleged to have to crafted a global electronic network intended as a conduit for criminals to launder their ill-gotten gains, according to the federal indictment and other court documents unveiled in New York City Tuesday.
From 2006 to 2013, Liberty Reserve grew exponentially to become one of the world's most widely used digital currency services, the documents say. But in short order, the company became a "financial hub of the cybercrime world," anonymously processing profits from criminal activity that ranged from identity theft and credit card fraud to computer hacking, investment fraud, child pornography, and drug trafficking, the indictment alleges.
Not everyone who used Liberty Reserve to transmit a type of digital currency instantly and anonymously around the world was a criminal. But most were, federal investigators said. Court documents describe an Internet-based operation of "staggering" scope that served as a vital tool for cyber thieves and criminals to first convert ill-gotten cash to an anonymous digital currency – then, later, convert it back into cash and transmit it to banks worldwide.
Anonymity was the real currency, however. With no real names necessary, and no proof of identification required, anonymous accounts could be opened and cash deposited at Liberty Reserve-affiliated "exchangers" worldwide.
It was common, for instance, for Liberty Reserve users to establish accounts under false names, including such obvious criminal names as "Russia Hackers" and "Hacker Account," the court documents said. During the investigation, one agent opened and executed transactions under the name of "Joe Bogus" with the address "123 Fake Main Street" in "Completely Made Up City, New York."
---