Zimmerman won't get his gun back yet, per Justice Department. What's up? (+video)
The US Justice Department wants the George Zimmerman gun and other physical evidence in the Trayvon Martin shooting to be held intact, pending its civil rights probe. That might signal stepped-up activity by the feds, but analysts see reason to doubt they will ultimately file charges.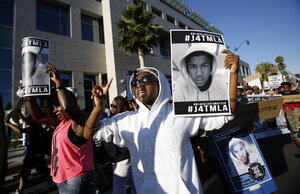 Mario Anzuoni/Reuters
George Zimmerman won't get his gun back by the end of the month, if US Attorney General Eric Holder has his way.
Although top US officials have hinted that a federal hate crime charge against Mr. Zimmerman would be hard to prove, Mr. Holder's Department of Justice on Thursday appeared to step up its open investigation into the Trayvon Martin shooting by placing a hold on all the evidence in the case, including the Kel-Tec 9 mm pistol that Zimmerman used to shoot Trayvon, an unarmed black teenager.
After his acquittal in a criminal trial on July 13, Florida Judge Debra Nelson told Zimmerman that he "has no more business in front of this court," which put into motion the return of his gun by the state.
The Justice Department's request that police in Sanford, Fla., hold onto physical evidence in the case is likely to ratchet up what's becoming a politicized, even personal, conflict pitting Holder against Zimmerman and his sympathizers. Pro-Zimmerman forces are especially incensed that Holder personally met with civil rights leaders in early 2012 as they were organizing "Justice for Trayvon" rallies after the Feb. 26 shooting.
---