Guantánamo: Secret evidence is thorny issue at 9/11 pretrial hearing
At Guantánamo, Khalid Sheikh Mohammed and four alleged 9/11 co-conspirators were back in court. Their lawyers complained about not being able to show them 'classified' evidence.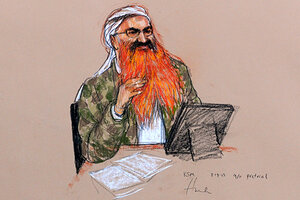 Janet Hamlin/AP
Accused 9/11 mastermind Khalid Sheikh Mohammed and four alleged co-conspirators were back before a military judge at Guantánamo on Monday as lawyers began a week-long series of hearings to decide unresolved legal issues in advance of the still-unscheduled war crimes trial.
Pending before the court are matters related to the protection of classified information, alleged government invasion of the attorney-client privilege, and the severity of the conditions of the defendants' pre-trial confinement in a secret wing of the US terror detention facility, among others.
The proceedings were monitored by reporters at Guantánamo and via a live broadcast at Fort Meade in Maryland.
During the hearing, Mr. Mohammed sat at the defense table dressed in a green military-style camouflage jacket and white turban. Much of his lower face was concealed beneath a thick red beard.
He appeared alert and engaged in the proceeding.
The session marked the fifth time lawyers for the five defendants have squared off against military prosecutors since May 2012, when the defendants were formally charged with nearly 3,000 counts of murder and other crimes related to the Sept. 11, 2001 terror attacks.
The US government is seeking the death penalty for all five defendants.
Much of the legal wrangling is over how to handle classified information.
---