Manny Pacquiao visits White House and Congress
Manny Pacquiao visits Washington: world champion boxer and Filipino Congressman, Manny Pacquiao, met with President Obama in the White House and Sen. Harry Reid on Capitol Hill.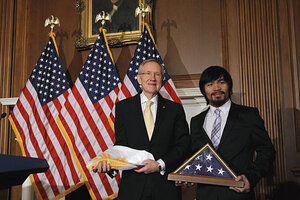 Alex Brandon/AP
Manny Pacquiao stopped traffic outside the White House on Tuesday, during a whirlwind tour of the nation's capital that included meetings with President Barack Obama and Sen. Harry Reid, the senior member of the U.S. Senate.
The Filipino boxing sensation was crossing the street near the White House when several drivers, trying to snap photos of Pacquiao with cell phones, caused a multicar pileup, Pacquiao publicist Fred Sternburg told The Associated Press. Nobody was hurt in the accident.
Pacquiao and his wife, Jinkee, spent time talking boxing and basketball with the president, along with a bit of business. Pacquiao was elected representative in the Philippine Congress from the Sarangani province nine months ago in national elections and has taken the new job as seriously as he does boxing. He already has explored building the area's first provincial hospital.
"This is an unforgettable moment in my life," Pacquiao said earlier in the day.
The eight-division world champion posed with Obama for several photos, including a boxing pose, in the Oval Office, Sternburg said. The president gave him three grocery bags full of light blue M&M's with the presidential seal, along with a watch adorned with the seal, and said he hopes to someday visit the Philippines.
Pacquiao invited the president to his fight against Shane Mosley on May 7 at the MGM Grand in Las Vegas, Sternburg said. Obama said he would be busy but promised to watch on television.
---