Kwame Kilpatrick released on parole, faces federal charges
Kwame Kilpatrick was released from prison on parole on Friday, but now has to prepare for a federal corruption trial that could send him back to prison for years.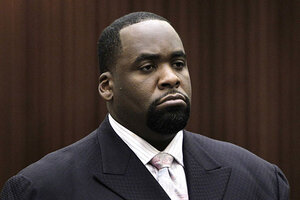 Paul Sancya/AP/File
The Michigan parole board voted Friday to release former Detroit Mayor Kwame Kilpatrick from state prison in late July, a decision that gives him plenty of time to prepare for a federal corruption trial that could land him back behind bars for years.
Kilpatrick, 41, will be freed from prison no earlier than July 24, said Russ Marlan, a spokesman for the Michigan Department of Corrections.
Kilpatrick quit office in 2008 when he pleaded guilty to obstruction of justice in a case tied to his cover-up of an extramarital affair with his chief of staff. He has been in prison since May 2010 when a judge found he had misled authorities and failed to turn over certain assets toward his $1 million restitution to Detroit.
Parole cases typically are heard by three-member panels. Marlan said Kilpatrick's never got to a third member because the other two already were in favor of releasing him, including chairman Tom Combs.
"The two of them don't feel he would be a risk to society or a menace to the public," Marlan said. "He didn't get any misconducts in prison. He's been serving time for a non-violent crime. Those are things that probably played to his advantage."
The Wayne County prosecutor's office, which vigorously opposed Kilpatrick's release, had no comment on the decision.
Kilpatrick's parole request had been on hold since late May. At the time, Combs said he wanted more time to understand the federal corruption charges pending against the ex-mayor. People charged with felonies typically aren't granted parole, but the U.S. attorney's office had no objection to Kilpatrick being released.
---