GOP Debate: Three keys to tonight's debate
What do the presidential candidates need to do in tonight's Tea Party Express/CNN GOP debate?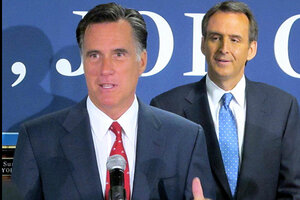 Bruce Smith/AP
What should you be looking for in tonight's GOP debate sponsored by the Tea Party Express and CNN?
Before Decoder joins Shortformblog in live blogging , here are three keys to the debate.
As Decoder wrote earlier today, Mitt Romney is attacking Rick Perry for his comments on Social Security at the last debate (where he called it, among other things, a "monstrous lie.") Ex-presidential candidate and former Minnesota Gov. Tim Pawlenty also brought up Social Security in his endorsement of Romney this morning. Michele Bachmann, who followed up her win at the Iowa straw poll by fading back to single-digit national polling, is also reportedly preparing the long knives on Social Security to try to get some mojo back.
---