Steve Wozniak recalls his friend, Steve Jobs
Steve Wozniak, who helped Steve Jobs found Apple in 1976, says 'he brought a lot of life to the world.'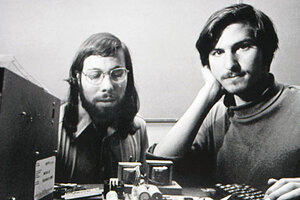 Paul Sakuma/AP/File
When Steve Wozniak co-founded Apple with Steve Jobs in a Silicon Valley garage in 1976, he couldn't have known the incredible footprint that Jobs would leave on the consumer electronics landscape.
The two built and marketed the first personal computer to generate color graphics, the Apple II. Jobs would go on to become the showman and the mastermind behind revolutionary products such as the iPod, iPhone and iPad.
Although the two didn't stay as close through the decades, they remained in touch.
Wozniak was among millions mourning Jobs' death on Wednesday at 56.
"We've lost something we won't get back," Wozniak said in a phone interview with The Associated Press. "The way I see it, though, the way people love products he put so much into creating means he brought a lot of life to the world."
Wozniak wiped away tears in a separate AP video interview.
Jobs "gets a reputation for being a strong leader and for being brash. But to me he was always so kind, such a good friend," he said.
Wozniak, five years older than Jobs, first met him when Jobs was still in high school. Early on, the two experimented with technology in a mischievous way: by building so-called "blue boxes" that emits tones at the right frequencies to trick phones into allowing users to make free calls anywhere in the world.
---