Fact or fiction? No one on Wall Street went to jail for financial crisis
Who went to jail for malfeasance after the 2008 financial meltdown? DCDecoder looks at who was punished, who wasn't, and why.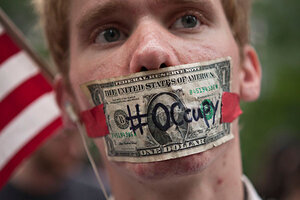 (AP Photo/Andrew Burton)
A recurring theme among Occupy Wall St. protesters and some Democratic politicians (see this massively popular Tumblr image mashup) is that no financial industry types have gone to prison for the malfeasance that led to the financial crisis.
As a technical matter, this isn't true. The number is (at least) two, according to HousingPredictor.com.
Michael J. McGrath Jr., former president of U.S. Mortgage Corp., got 14 years in prison for orchestrating a conspiracy that defrauded credit unions and Fannie Mae of $136 million.
Lee B. Farkas, former chairman of Taylor, Bean & Whitaker Mortgage Corp., got 30 years in prison and was ordered to forfeit $38.5 million, for his role in a $3 billion scheme to rip off banks through the sale of fake mortgage assets.
Still, these two arrests would likely seem to most irate protesters like pretty small potatoes. So why is it that so few top executives seem to have gotten their proper comeuppance for the financial crisis? Decoder would put forward three broader questions for consideration:
---