Susan Sarandon calls pope a Nazi, offends large segments of humanity
Susan Sarandon managed to offend both Jews and Catholics by reportedly calling Pope Benedict XVI a Nazi. Apparently her comment was an attempt to say something nice about Benedict's predecessor, Pope John Paul II.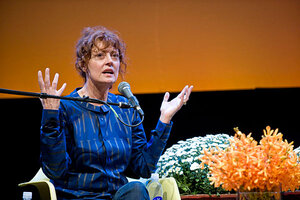 Splash News/Newscom
Actress and social activist Susan Sarandon was reported to have called Pope Benedict a Nazi during a public discussion at a U.S. film festival in New York, provoking criticism from both Catholic and Jewish groups.
The movie star, who won an Oscar for her role in the 1995 anti-death penalty film "Dead man Walking" actress, said she had sent a copy of the book on which the movie is based to the pope.
"The last one. Not this Nazi one we have now," she was reported as saying by New York newspaper Newsday.
The remark was made on Saturday in an interview conducted by fellow actor Bob Balaban about Sarandon's career that was part of the Hamptons Film Festival.
Newsday said Balaban gently chided Sarandon for the remark but she repeated it.
Sarandon's Hollywood agent did not respond to calls for comment on Monday.
---