October Nor'easter threatens to knock out power with heavy snow
A Nor'easter threatens to dump a foot of snow on parts of New England Saturday and Sunday. The October snowfall record of 7.5 inches was set in 1979.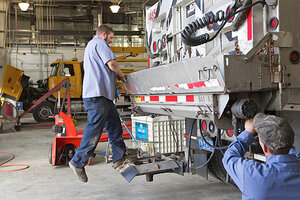 (AP Photo/The Patriot-News, Joe Hermitt)
Dan Patrylak recently moved from Arizona back to New England and was looking forward to seeing snow on the ground again, happily picking up two new ice scrapers for his car at the start of his weekend.
Sections of the Northeast were bracing for an October snowfall Saturday as a storm moving up the East Coast was expected to combine with a cold air mass and dump anywhere from a dusting of snow to about 10 inches throughout the area.
"In Phoenix, it's 113 all summer long," the 79-year-old Patrylak, of Glastonbury, said Friday. "So, it just depends on where you are and what the weather is and you learn to accept that. Whatever it is, I'm going to be ready for it."
October snowfall records could be broken in parts of southern New England, especially at higher elevations, National Weather Service meteorologist Bill Simpson said. The October record for southern New England is 7.5 inches in Worcester in 1979.
Likely to see the most snow will be the Massachusetts Berkshires, the Litchfield Hills in northwestern Connecticut, southwestern New Hampshire and the southern Green Mountains. In Connecticut, Gov. Dannel P. Malloy warned residents that they could lose power due to the anticipated wet, heavy snow.
---