Free speech covers tweets: Gov. Sam Brownback apologizes to Kansas teen
Gov. Sam Brownback apologized for an overzealous staff. A Kansas teen was told to apologize to Brownback after she issued a disparaging tweet. She now has more than 9,000 Twitter followers.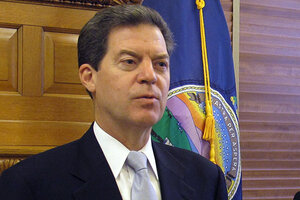 (AP Photo/John Hanna)
Kansas Gov. Sam Brownback apologized Monday for his office's response to a disparaging Twitter post by a high school senior who was attending a school function at the state Capitol.
"My staff overreacted to this tweet, and for that I apologize," Brownback said in a Monday statement emailed to The Associated Press. "Freedom of speech is among our most treasured freedoms."
Emma Sullivan, 18, of the Kansas City suburb of Fairway, Kan., was taking part in a Youth in Government program last week in Topeka, Kan., when she sent out a tweet from the back of a crowd of students listening to Brownback's greeting. From her cellphone, she thumbed: "Just made mean comments at gov. brownback and told him he sucked, in person (hash)heblowsalot."
She said she was just joking with friends, but Brownback's office, which monitors social media for postings containing the governor's name, contacted the youth program. Sullivan said she spent nearly an hour in the principal's office and was told to apologize in writing to the governor.
As word of the governor's office reaction spread, Sullivan went from 61 Twitter followers before the incident to more than 9,000 Monday — more than three times the number that follow Brownback's official Twitter account.
---