Bobby Valentine to take Red Sox reins
Bobby Valentine will likely be the next manager of the Boston Red Sox. An announcement about Valentine is expected Thursday.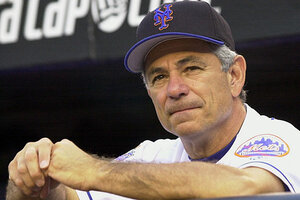 (AP Photo/Ron Frehm, File)
Bobby Valentine has accepted the job as new manager of the Boston Red Sox, U.S. media reported on Tuesday.
Valentine replaces Terry Francona who left the club in September, after the Red Sox had suffered one of the greatest late-season collapses witnessed in Major League Baseball.
Neither Valentine nor the Red Sox would immediately confirm the agreement but local media, including ESPN where Valentine worked as a sports analyst, said the deal had been made.
Boston.com sports writer Nick Cafardo notes that with Bobby Valentine:
"The Sox stuck their necks out a little and thought outside the box. They are taking somewhat of a chance. They recognized that desperate times need desperate measures.

But in Valentine, they know they're getting passion, one of the best in-game managers, and a guy who will speak his mind. Intellectually, he fits what they like."
---