Why House Republicans are balking at payroll tax cut
Republicans in the House of Representatives don't like a two-month payroll tax cut extension. But American voters aren't thrilled by the resulting payroll tax hike.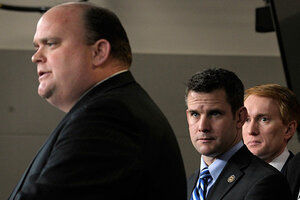 (AP Photo/Susan Walsh)
"I don't care about the political implications," Rep. Tom Reed, R-N.Y, told National Journal. "I don't care about my reelection effort. I came here to do what's right for America."
And so continued the second great GOP Congressional balk of 2011, where the House has walked away from a deal formed in the Senate that would push the payroll tax cut (dropping the Social Security withholding from Americans' paychecks from 6.2 percent to 4.2 percent, among other measures) two months into 2012.
As House Majority Leader Eric Cantor (R-Va.) said on the House floor:
"The two-month concept doesn't make a whole lot of sense. A two-month patch is irresponsible. That's why the House is taking a stand — we believe all Americans deserve certainty."
In fact, you'd have to say that Democrats - who were carping about certainty during the debt ceiling debate - aren't providing much of it here. (Same goes for Senate Republicans, who nearly all voted for the Senate proposal.)
In fact, Decoder finds it somewhat refreshing to hear someone say the words "I don't care about my reelection effort."
(A quick caveat - Reed's seat, New York's 29th congressional district, is being contracted as New York loses a House seat due to a shrinking population. So, it's unclear what his next steps are, anyway.)
Americans have hit a record level of distrust of Congress, as Gallup shows below: Sixty-four percent rate Congressional honest and ethics as very low or low - or about twice as bad as the 1970s, 80s, and 90s.
---