Super Bowl XLVI: Patriots' Waters finally reaches NFL's biggest stage
After toiling in the trenches for 12 seasons, New England Patriots offensive lineman Brian Waters has finally made it to Super Sunday.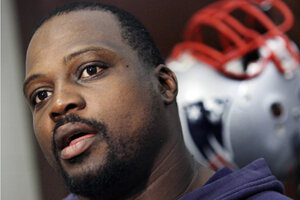 Elise Amendola/AP
Leaving the Kansas City Chiefs is the best thing to happen to Brian Waters in his 12 years in the NFL.
Waters signed with the Patriots before the season after toiling 11 years in Kansas City without winning a playoff game. He now has a chance to be part of a Super Bowl champion if New England can beat the New York Giants on Sunday.
"You just only get so many opportunities at it," said Waters, a six-time Pro Bowl player for the Chiefs. "I knew that as I got older, that the chances were getting slimmer and slimmer."
It's been quite a climb for the soon to be 35-year-old Waters.
"I'm happy for Brian," said backup lineman Nick McDonald. "Twelve years and he wins his first playoff game this year."
McDonald is at the opposite extreme, a seldom-used player with a shot at his second Super Bowl ring in his two seasons. He made the Packers as a free agent out of Grand Valley State in 2010, but was a healthy scratch in all 16 games and four postseason games. He played in six games with the Patriots this season, including two in the playoffs.
"The good luck charm," Waters called him.
---