Ricky Williams calls it quits - seriously this time
Ricky Williams says he is is retiring from the NFL again, but this time it looks like it's the real deal.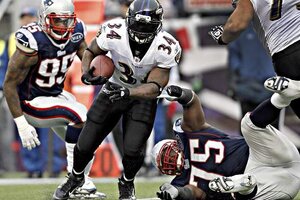 Winslow Townson/AP
Ricky Williams is retiring from the NFL.
Again.
This time, however, it appears to be for good.
The 34-year-old Williams told the Baltimore Ravens on Tuesday he won't be back to fulfill the second year of a contract he signed in August. Playing as a backup to Ray Rice this year, Williams ran for 444 yards and scored two touchdowns.
He also became the 26th player in NFL history to reach 10,000 yards rushing, reaching the plateau in the season finale at Cincinnati.
"The NFL has been an amazing page in this chapter of my life," Williamssaid. "I pray that all successive adventures offer me the same potential for growth, success and most importantly, fun. ... As for what's next, I am excited about all the opportunities ahead — continuing my education, running The Ricky Williams Foundation and whatever other opportunities present themselves."
Williams retired previously before the 2004 season when facing a four-game suspension for violating the league's drug policy. He returned in 2005, then left to spend the 2006 season with Toronto of the Canadian Football League.
---