Duke upsets North Carolina with buzzer-beater
No. 10 Duke took down No. 5 ranked University of North Carolina Wednesday night, putting Duke back on top of the Atlantic Coast Conference.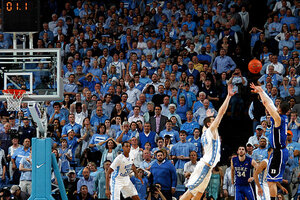 AP Photo/Jim R. Bounds
Austin Rivers pulled up, launched a high-arcing 3-pointer — and shot No. 10 Duke right back to the top of the Atlantic Coast Conference.
The freshman capped the Blue Devils' furious rally with a buzzer-beater that gave them an 85-84 win over No. 5 North Carolina on Wednesday night — and just might have put their season back on track.
A few days earlier, Duke was reeling after a home loss to Miami — its second defeat in a stretch of three home games.
RELATED: Top 2011 NCAA tournament buzzer-beaters
Just that quickly, the Blue Devils find themselves sharing first place in the league with Florida State and a Tar Heels team they stunned by storming back from 10 points down in the final 3 minutes.
"This could be a huge momentum thing for our team right now," Rivers said.
Rivers finished with a season-high 29 points — a Duke freshman record for points scored against North Carolina — and his six of the Blue Devils' season high-tying 14 3-pointers. The last came over 7-footer Tyler Zeller with the Blue Devils (20-4, 7-2) trailing by two in the final seconds.
---