Tornado tears through Michigan towns
The twister touched down not far from Ann Arbor, in southeastern Michigan.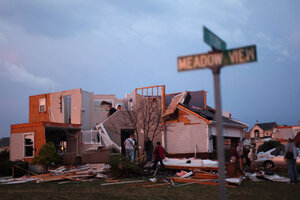 Kimberly P. Mitchell/AP
A tornado ripped through a rural southeastern Michigan community Thursday, damaging or demolishing many homes, downing trees and power lines, sparking fires and flooding neighborhood roads.
The slow-moving storm was part of a system packing large hail, heavy rain and high winds. The touchdown was reported in the Dexter and Pinckney areas northwest of Ann Arbor, said Marc Breckenridge, director of Emergency Management for the county.
Crews were assessing damage, but in one neighborhood, a home appeared to be flattened while an adjacent home lost most of its roof and second floor. Houses across the street also sustained damage to their roofs and siding. There were no reports of injuries or fatalities, Breckenridge's office said.
About two dozen homes in Sharon Carty's Huron Farms neighborhood "are pretty much unlivable," she said. "And a significant number more than that are severely damaged. One house, the whole front of the house is gone. Folks whose houses were hit are pretty stunned. We don't get too many tornados around here."
She saw no evidence of any injuries.
Carty, 38, said she and her family heard the first weather siren about 5:15 p.m. and were in their basement when the tornado struck. Their house was untouched.
Jack Davidson, 63, said he was watching TV when he heard warning sirens go off twice near his home in Dexter, sending him and his to the basement.
When they emerged, Davidson said the couple at first didn't see much damage and thought the storm had spared the area. But one look across the street revealed a different reality: a flattened self-serve carwash was among the damaged structures.
"It's bad," Davidson said. "The pizza shop's bad. But the worst damage is to the carwash."
---