Militia leaders plead guilty to gun charges
The Hutaree militia had earlier been cleared of conspiracy charges stemming from accusation of domestic terrorism.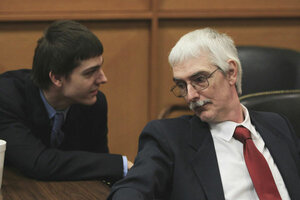 Carlos Osorio/AP
A Michigan militia leader and his son pleaded guilty Thursday to possessing a machine gun, giving prosecutors their only gain in a domestic terror trial that was upended when the judge dismissed charges of plotting war against the government.
Hutaree leader David Stone rocked in a chair at the defense table after pleading guilty and told reporters he was a "stand-up true American patriot" whose anti-government comments and bravado about wanting to kill police were not a call to attack the United States.
He and six militia members were cleared Tuesday of conspiracy charges, which he called a "victory for everyone" who cherishes the First Amendment.
"It's amazing how someone can take a comment out of context and make it to whatever they want it to be," Stone, 51, said.
What do you know about the Second Amendment? Take our quiz.
Gun charges were all that remained for Stone and Joshua Stone, 23, both from Lenawee County, Mich., after U.S. District Judge Victoria Roberts said prosecutors in six weeks had failed to present evidence of a specific plan to go to war against law enforcement and federal authorities.
---