White House Easter egg roll: President, Mrs. Obama host annual children's event
White House Easter egg roll has been around since the late 19th century. The First Family played an active role in hosting the White House Easter egg roll this year.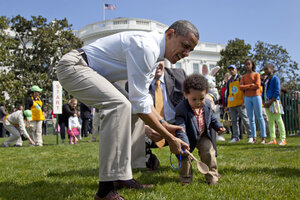 Carolyn Kaster/AP
In an annual family-friendly rite of spring, President Barack Obama and his wife Michelle kicked off the White House Easter Egg Roll on Monday, joining tens of thousands of youngsters and their parents in a day of racing, reading, sports and crafts on a breezy, sun-splashed South Lawn.
"We are so thrilled all of you could join us," Obama said from the South Portico, flanked by the first lady, their daughters Malia and Sasha and the Easter Bunny.
"It's a beautiful day __ perfect weather," enthused Mrs. Obama. "There's something for everyone ... I hope you put on your comfortable shoes."
The annual event, first held in 1878 when Rutherford B. Hayes was president, featured traditional egg-rolling races __ as well as obstacle courses, book-readings, musical performances, cooking with celebrity chefs and clowns galore. There was even a yoga garden. Officials expected some 30,000 kids and their parents to take part.
After welcoming the throng, the president and his family __ including first grandmother Marian Robinson __ set off to mix and mingle as the president's own Marine Band played Irving Berlin's "Easter Parade."
His first stop was the day's centerpiece event, the egg rolling race. Obama blew the whistle and joined in the cheers of parents as youngsters scampered across the grass toward a finish line a short distance away. "We've got a winner over here," he shouted as one child finished the course.
He then joined the rest of his family on the book-reading stage. Malia and Sasha took turns reading from "A Sick Day for Amos McGee" by Philip C. Stead. He followed with Maurice Sendak's "Where the Wild Things Are," which he called an "all-time classic," and encouraged his audience to join in the growling, roaring and teeth-gnashing of the characters. "You guys were excellent wild things," he said, before excusing himself. "I've got to go to work. I'm gnashing my teeth."
---