Bill Cosby says Trayvon Martin case is about gun ownership, not race
Comedian Bill Cosby says the Trayvon Martin case is not about racism, it is about gun ownership. The Trayvon Martin case has also put a spotlight on Stand Your Ground laws.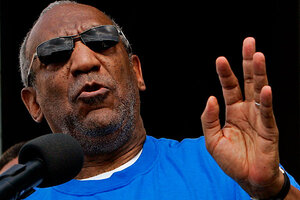 (AP Photo/Alex Brandon)
Actor and comedian Bill Cosby says the debate over the killing of Trayvon Martin should be focused on guns, not race.
In an interview on CNN's "State of the Union" aired Sunday, Cosby said calling George Zimmerman a racist doesn't solve anything. Cosby says the bigger question is what Zimmerman was doing with a gun, and who taught him how to behave with it.
Cosby said during the interview that he once owned a gun but no longer does. He says there is a need to get guns off the streets, and that people should be taught to use every possible alternative before shooting someone.
RECOMMENDED: Do you know the Second Amendment? Take the quiz
The Trayvon Martin shooting has also put a spotlight on the Stand Your Ground laws, which allow the use of lethal force in self defense.
After the Feb. 26 shooting, George Zimmerman persuaded the Sanborn, Fla., police not to charge him for killing unarmed teenager, but last week the state prosecutor has accused him of murder. Soon, armed with unparalleled legal advantages, Zimmerman will get to ask a judge to find the killing was justified, and if that doesn't work, he'll get to make the same case to a jury.
The wave of National Rifle Association-backed legislation that began seven years ago in Florida and continues to sweep the country has done more than establish citizens' right to "stand your ground," as supporters call the laws. It's added second, third and even fourth chances for people who have used lethal force to avoid prosecution and conviction using the same argument, extra opportunities to keep their freedom that defendants accused of other crimes don't get.
---