Baby found after horrific abduction from murdered mother
The mother was shot several times outside Houston, Texas, and then the baby was taken. It was found several hours later.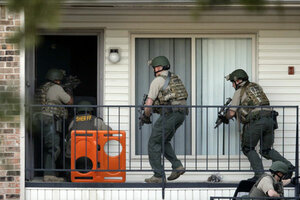 David J. Phillip/AP
A newborn who was abducted from his dying mother after she was repeatedly shot Tuesday outside a suburban Houston pediatric center was found safe hours later, according to investigators who said the suspected shooter sped off with the infant in a blood-stained Lexus.
The 3-day-old boy was found around 8 p.m., about six hours after his mother, Kala Marie Golden, was fatally shot following a verbal altercation in a parking lot, Montgomery County District Attorney Brett Ligon said.
Ligon wouldn't say where the infant was found, but he said it wasn't at a nearby apartment complex where officers wielding guns and riot shields searched earlier Tuesday evening.
How much do you know about the Second Amendment? Take our quiz.
"The child is healthy. The father of the child is on his way to be reunited with the child," Ligon told The Associated Press.
A person of interest has been detained though no charges have been filed, he said. He wouldn't provide any details about the person.
Golden was leaving an afternoon checkup with her son, Keegan, when she had a verbal altercation with a woman in a Lexus parked next to her pickup truck, Montgomery County sheriff's Lt. Dan Norris said.
---