Medicaid decision pits governor against governor
The Supreme Court's decision on the Affordable Care Act was the focus at an annual governors' meeting this weekend. So far, five Republican governors have opted out of expanding their states' Medicaid program.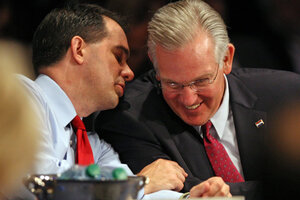 Bob Brown/AP
The Supreme Court decision allowing U.S. states to opt out of expanding Medicaid, the health insurance program for the poor, is pitting governor against governor, with Democrats accusing Republicans of being more concerned with election-year politics than solving healthcare problems.
The issue that dominated the annual National Governors Association meeting this weekend in the historic Virginia town of Williamsburg was the court's ruling that Congress cannot penalize states who refuse to enroll a wider group of people in Medicaid, which is operated by states with federal reimbursements.
---